KaReGhar Designs - Turning automotive scrap into functional art
blackwasp
Senior - BHPian
Original Article link: https://www.team-bhp.com/forum/indian-car-scene/217317-kareghar-designs-turning-automotive-scrap-into-functional-art.html
---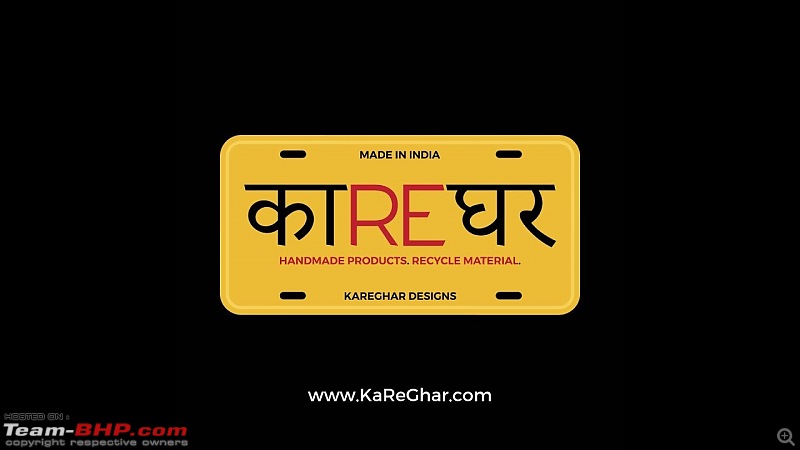 KaReGhar Designs is a Mumbai-based company turning scrap into functional artwork. Founded by Parveen Jiterwal of The Whiteboard Company (TWC), a startup incubator in Mumbai, and Ankita and Haider, quite an energetic + talented duo I might add, the company transforms automotive scrap into handmade art, one piece at a time. The venture was started when they came across a broken bench on the Worli Seaface and thought about the different ways it could be made use of. Soon, whenever they saw stuff like broken down doors, tin cans, tyres, cars rotting away, etc., they began brainstorming on how to make things out of it. A visit to a scrapyard gave them inspiration...with piles of scrap, each with a different shape and texture.
How the name came up:
Ka
stands (in ancient Egypt) for the supposed spiritual part of an individual human being or God, which survived (with the soul) after death and could reside in a statue of the person.
Re
stands for ReCycle, ReGenerate, ReFurbish.
Ghar
means Home, office, garden, any space that is yours.
And
KaReGhar
in Hindi pronunciation means Artisans or Craftsman (pronounced in hindi as ka-ree-gar).
Contact Details:
Call / Whatsapp : +91 9820081248
Email :
Sales@KaReGhar.com
Website :
https://www.kareghar.com/
As an auto enthusiast, it was a treat to see old car parts being converted into usable items. I asked them to show me the process of how they make it from the beginning, and they willingly obliged.
The work starts with a visit to the local scrapyard. Haider took me around to his usual places:
This unit specializes in breaking down engines. Here you can see one being broken down:
An engine had just arrived to be stripped down: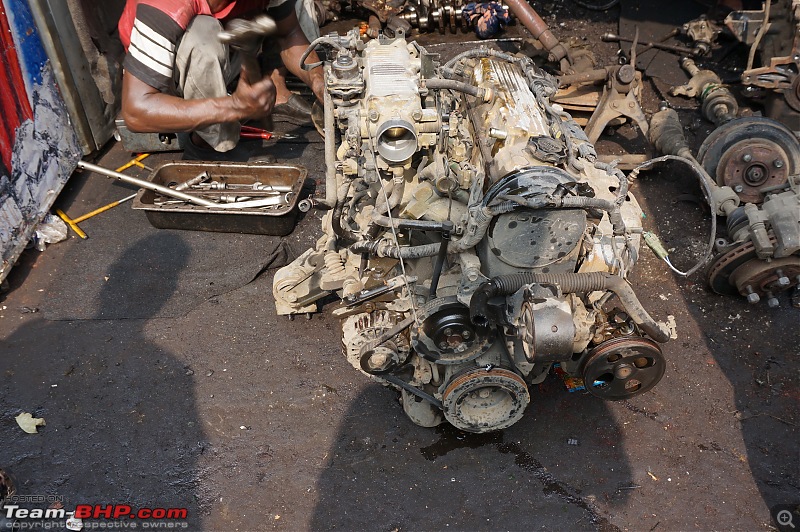 Even the smaller assemblies are broken down into little parts:
Once broken down, the pieces needed are handpicked from a heap like this. There is no fixed rate and you have to make multiple trips a day to get what you need: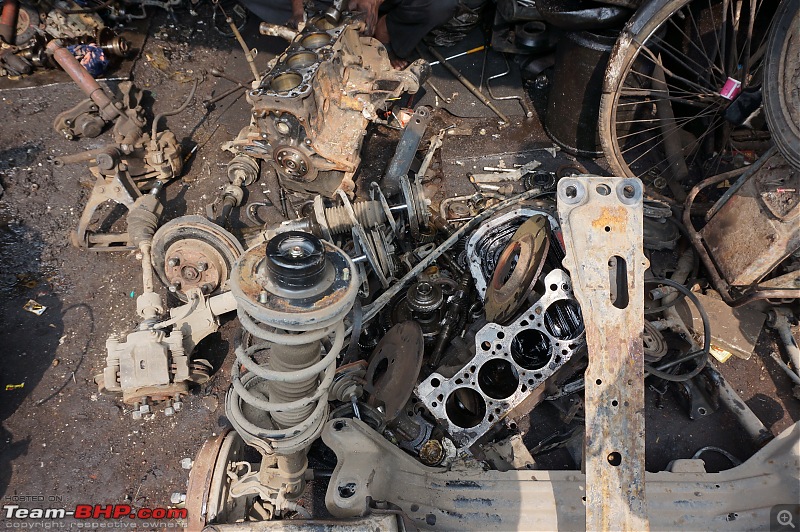 Part sourcing in action:
Once they get all the pieces they can, the next step is cleaning. Since there is a lot of dirt and grease stuck, they leave the oily parts in soap water overnight. Here is an intake value pushrod being washed:
Even a simple job like cleaning takes considerable time due to all the accumulated grime & dirt: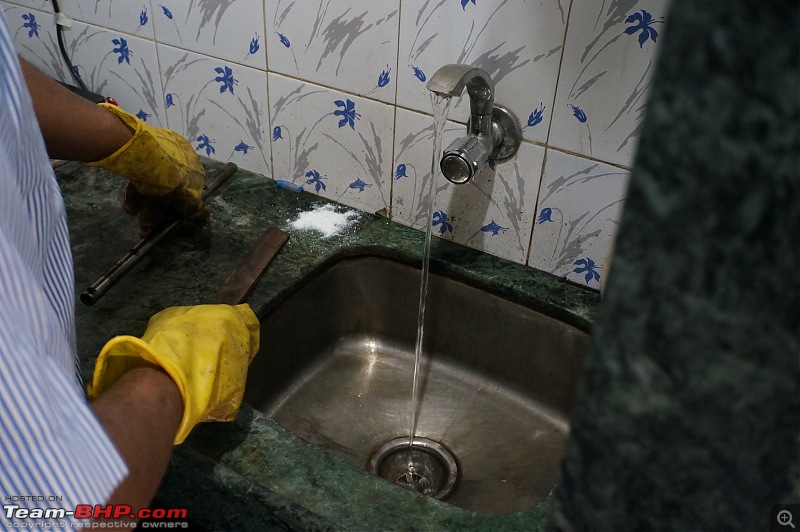 Difference between clean and dirty: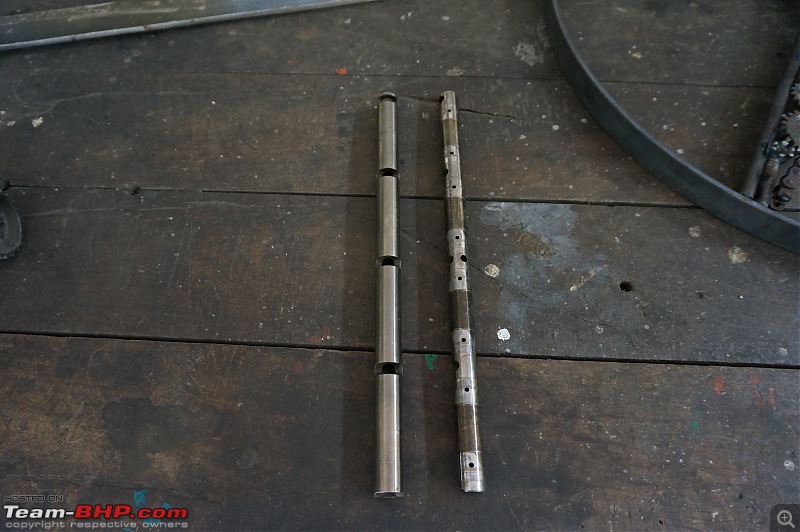 Once all the pieces are cleaned and ready, the next step is cutting them to shape using a grinder and welding them all together: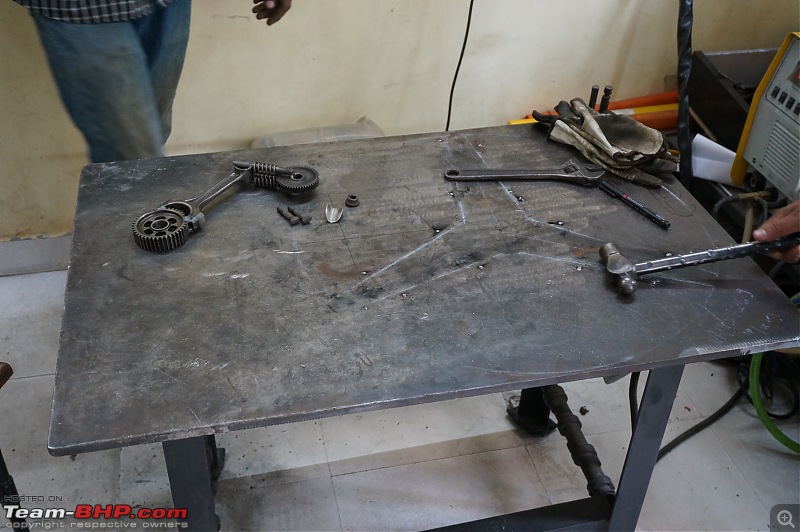 Here is a video in action:
Doing a bike today: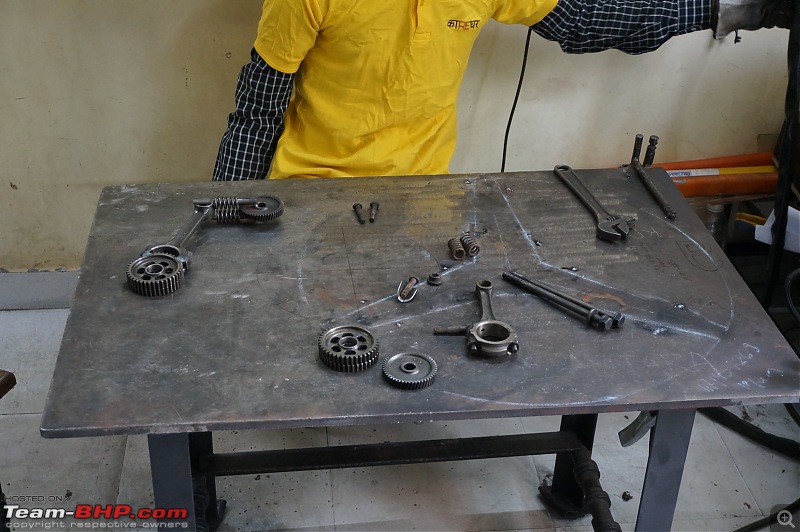 Welding in progress: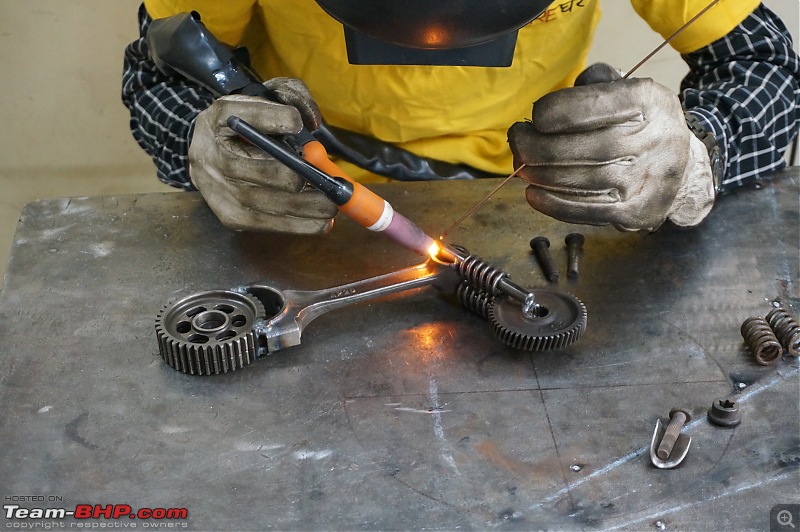 A lot of spots are in tight locations and it takes a while to get things right. Also, Haider told me there have been times when the part simply broke while making for one reason or the other, resulting in a low production volume:
A lot of scrap is buried here...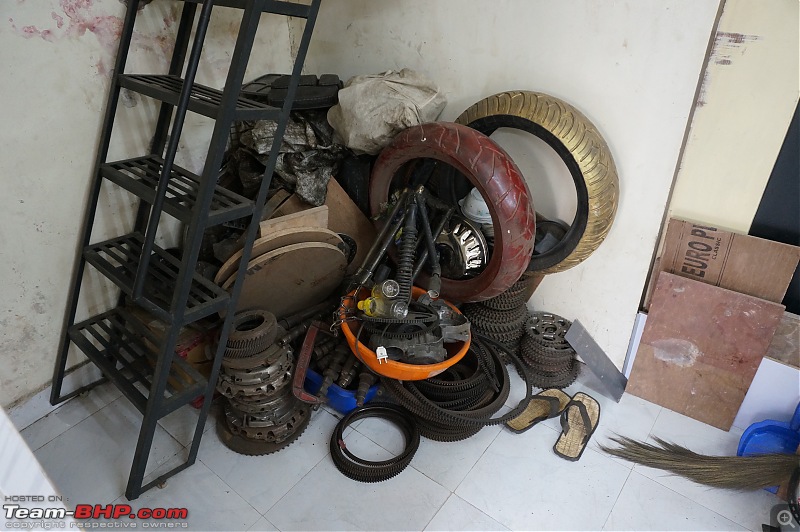 ... while the commonly used bits are arranged neatly:
Ankita and Haider in action. This is where they finalise designs. Since every piece is unique, no two designs are the same:
Also check out the scrap pieces here. These are the ones used partially, cut, grinded and then in other projects. This way, they have no scrap going out:
Next up, we headed to their shop. Lots of nice things here as well. Take a look at these cool ashtrays:
Pen stands in different shapes and colours:
Who would have thought two pistons could make such pen holders! What amazing creativity:
Some more designs - the right ones are card cum pen holders: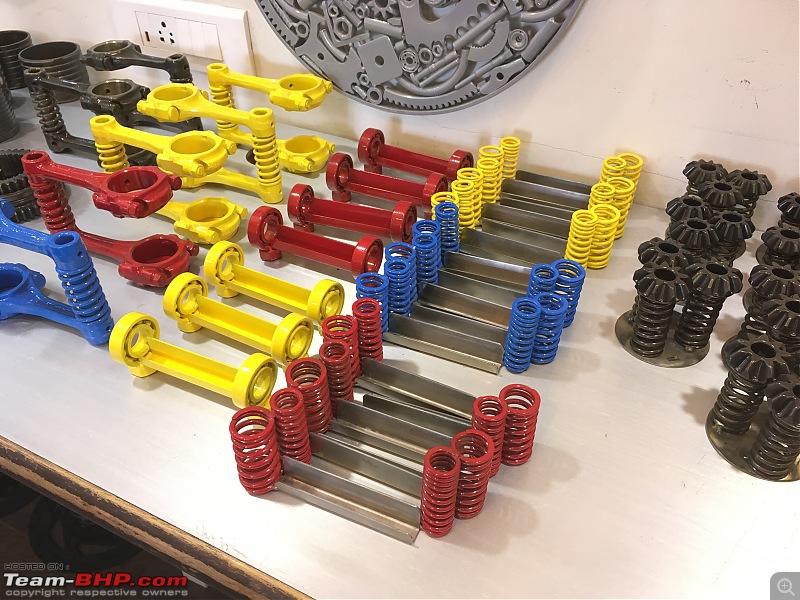 Some more:
Sweet candle holders!!
And more of them in different colours: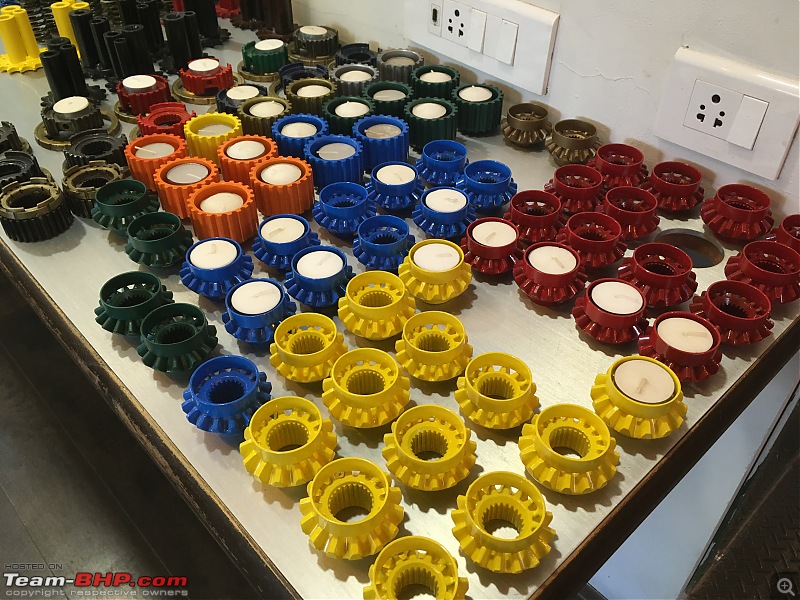 This wall showcases some of their truly unique work:
Table lamps of different kinds. I especially liked the one with the spring:
Scale models anyone?
Just look at the detailing incorporated in this jet:
And a dragster as well for sale:
For fans of space:
And we have cannons as well: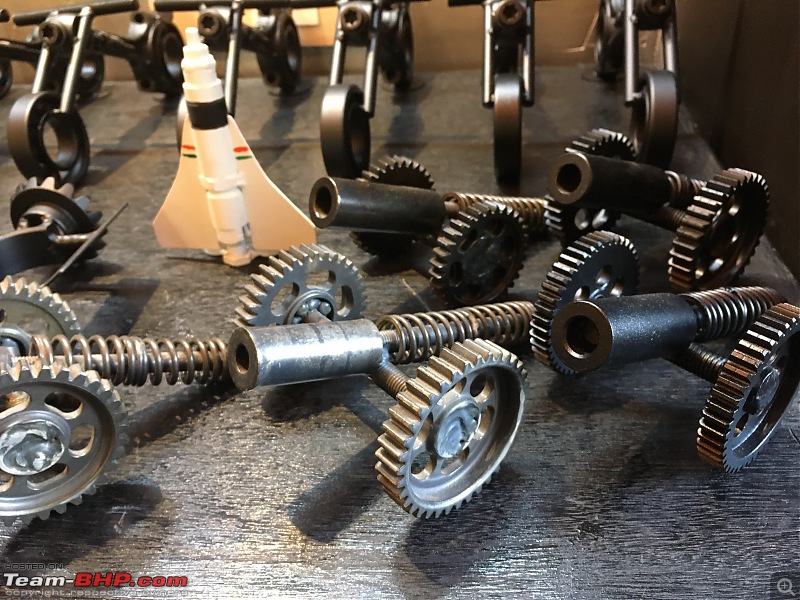 These are clocks / show pieces:
More in different colours: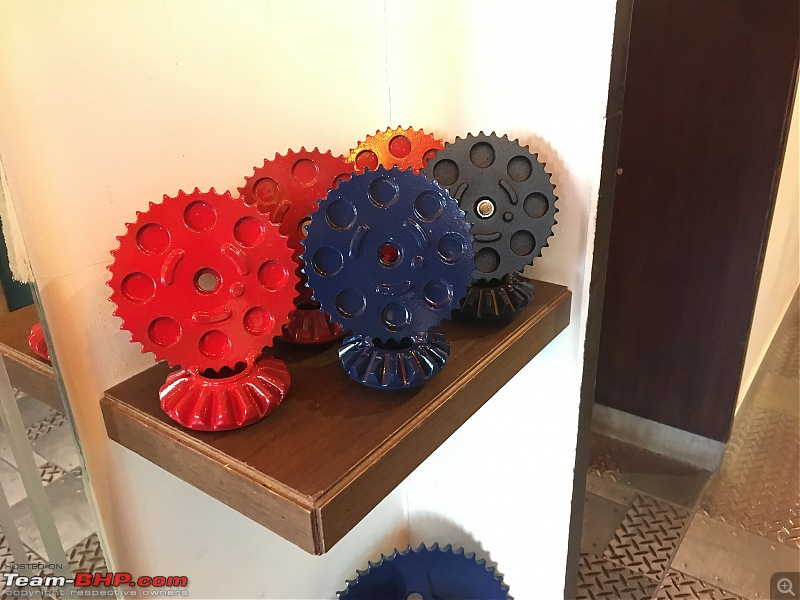 A small shelf with more items. Notice the shelf itself is made from recycled pipes!
This was made for a client who is a fitness buff: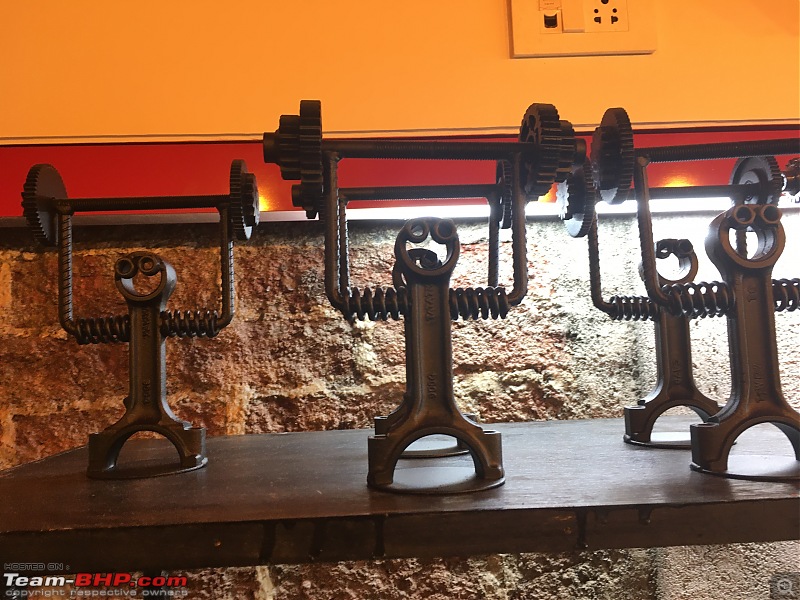 Helicopters - they also customise the rotors with your name / message if you'd prefer:
Some of the custom pieces:
Another round of pen stands:
Some Christmas specials!
A stool made from disc brakes:
And this awesome table from scrap. It was smooth to the touch & the team was careful enough to not leave any sharp edges:
The store has a rather homely feel to it:
Even the light fixtures were made in-house:
Cool, huh?
You will see brand names engraved on parts. Here is a con rod that came from a Tata:
This penholder takes 3 Honda Citys to make. Each ring comes from a single car:
Something for your gal:
A earring holder:
A table made from the crankshaft of a special car:
Check out the BMW marking:
Adjustable screws to ensure the top is level:
Two of their popular designs. You need to check them out in person - they have substantial heft and pictures simply don't do justice:
Tata piston rod as a handle: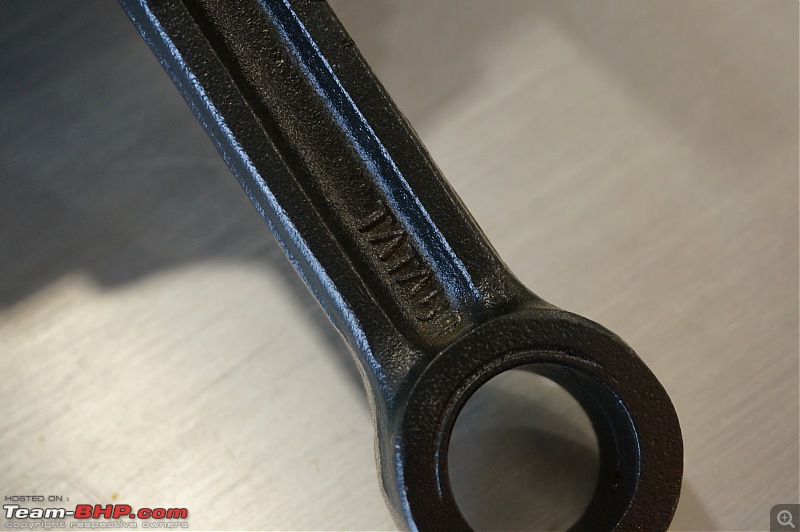 How the pistol grip is made:
Finer details of the machine gun: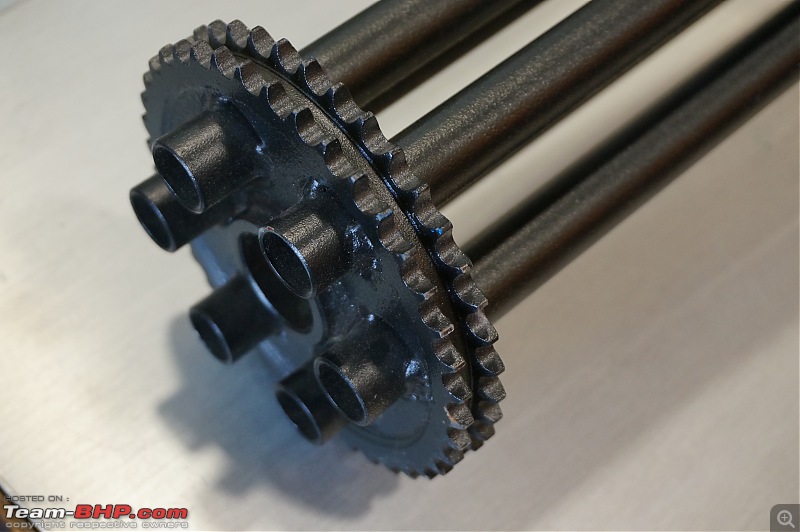 Some interesting designs from their website. This collection is made from parts that came off a Mercedes:
Classy candle holder:
A Chakra: