25th Oct 2019 8:00 am
A small studio that converts automotive scrap into art has got us hooked, and how.
Nishant Parekh
Let's face it. Most car or bike enthusiasts would love to preserve their cherished wheels even after they've driven the pants off them. Unless you are a sheikh or a billionaire tech founder, the chances of your car going anywhere but the scrap heap are low.
Fret not, if not the entire car, you can still adorn your room with its bits and bolts, thanks to a small Mumbai-based company – KaReGhar Designs. It uses only automotive scrap for its products, driving home the nobler point of environmental awareness; whilst catering to an auto buff's penchant for all things automotive.
The concept is the brainchild of Ankita Purav and Haider Ali Mehta. The duo began in a small way, making bags from used denims and clocks from disc brakes, which they sold to family and friends. However, what started as a hobby soon turned into a business after Parveen Jiterwal of The Whiteboard Company (TWC), a startup incubator in Mumbai, convinced them to quit their jobs to pursue this full time.
State of the art
On a gloomy August afternoon, I visit the KaReGhar office in Worli and what I see brightens up my day considerably. There's a cool miniature car made using a fuel injector, intake valve and connecting rod; a set of miniature bikes, each comprising a glow plug from a diesel engine, connecting rod and ball bearing; and camshafts that sees use in a variety of applications, such as a gun replica and an axe. What catches my attention almost instantly is the replica of a Gatling gun that's made using parts of an axle and camshaft, weighing a little over 8kg.
But apart from showpieces, KaReGhar Designs also has an array of utilitarian items such as keychains made from spark plugs (including a limited-edition Mercedes-Benz one), lamps made with coil springs, pen stands from valve springs and motorbike transmissions, and tables using a wheel rim, a camshaft (including one from a BMW) and a disc brake. There's also an eye-catching table made by welding together leftover scrap pieces. The prices range from Rs 200 for a tissue holder to Rs 20,000 for a customised coffee table.
"Each of our products is handmade and possesses an inherent uniqueness because in many cases, the shape and nature of the scrap metal differs, depending on its age and the vehicle's wear and tear," Ankita says.
Looking the part
To ensure that the products look attractive in finished form, Ankita and Haider follow a diligent process. In fact, they took the first six months after forming the company to establish quality standards and production processes. Unsurprisingly, it all starts at the scrapyard. 
The auto components are sourced from two key markets in Mumbai – Chor Bazaar and Kurla. Once the parts are selected, they need to be cleaned thoroughly to remove all traces of oil and dirt before they are welded. "Welding can be difficult since metals respond differently to different welding methods. The spare parts of an engine, for instance, have been in contact with lubricants for a long time. They can't be welded in that state because they might turn brittle," Haider explains. Therefore, some parts go through a heat treatment process called annealing, which improves the machinability and removes residual lubricants.
Once welded, the products go through a finishing process and are then either powder-coated, painted or polished, depending on their type. The powder coating helps protect metals from wear and tear and prevents rust. "Safety of our customers is also important. We need to ensure that all sharp edges are smoothened out," 
Art of doing business
Ankita believes it's important to diffuse the notion that upcycling art is easy and only involves welding parts together. Despite having a small scale, KaReGhar is committed to its founding premise of working only with scrap. It has even refused large orders as finding high quantities of a particular automotive component at a junkyard would be impossible and they don't want to do it by purchasing spares. "We have been very particular that all our products are an upcycle or created through a recycled process only. It's not about spares, it's about scrap,"
 Still in its infancy, the company is learning as it goes. The team wasn't quite lucky during the first few times they put up a stall, but the turning point came when KaReGhar participated in the Kala Ghoda Arts Festival 2019. They discovered the need to not just offer art pieces, but also include items that are utilitarian, colourful and appeal to people across genders and age groups. "We were sold out in four hours and were simply taking orders after that," Parveen says, adding that they've sold around 1500 products so far and are keen to create large art pieces as part of their next growth phase.
But it's not just about chasing numbers. The team is proud that it took something people wanted to get rid of and converted it into something they are willing to purchase and cherish. Their work can be found on www.kareghar.com if you too are looking for some unique touches to your decor.
From scrap to art 
Step 1 Sourcing vehicle parts from a scrapyard. They are usually covered in dirt and require a thorough clean-up.
Step 2 It's time to smoothen out the edges and cut out the unwanted bits. This is done with an angle grinder.
Step 3 The parts are welded in place, at which point the product begins to take shape. But there's still work to be done.
Step 4 Powder-coating is a crucial process. It renders a smooth finish and ensures longevity. And there you have it – a finished piece of art.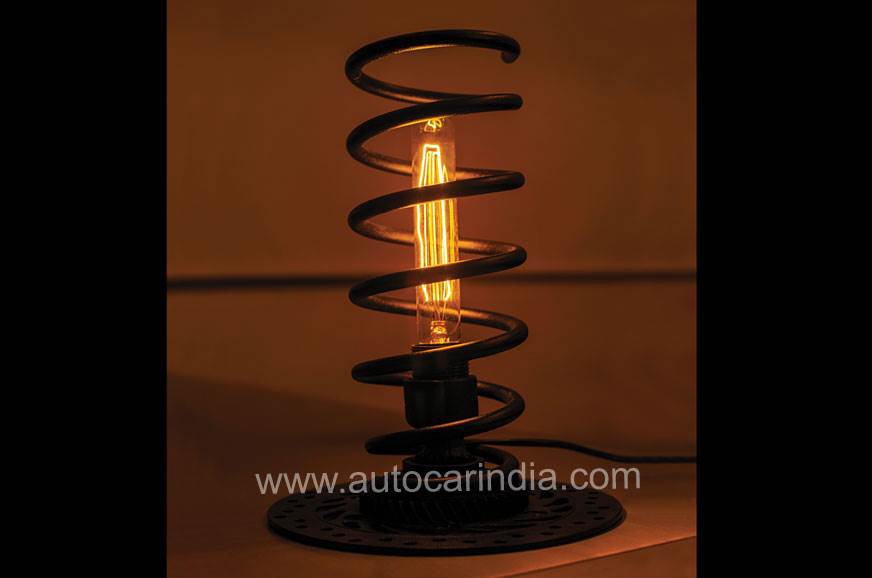 Article Link: https://www.autocarindia.com/auto-features/kareghar-design-creating-art-from-automobiles-414581
Also Featured in AUTOCAR 20th Anniversary Issue. September 2019. Pages 270-273.